One by one with all my heart
North of Kyoto,Kyotango is Japan's largest producer of silk,producing 60% of the materials used to make kimono today.
The silk produced is of the highest quality.
Locally-cultivated silk is used,and all these accessories are lovingly handmade,one by one.
I am a beautician.
I treasure the value of my hometown's Kyotango silk and kimono.
I want more people to learn about this,so I made accessories that even people who do not usually wear kimono can wear.
Please take a look!
Kachimushi
Mini Corsage
Hair ornament oogi
The dragonfly,also known as Tonbo or the famous warrior insect in Japan,is used as an emblem.
With a reputation as a strong insect that never stops leaping ahead.
These accessories are made with the thoughts of bringing good luck to all who wear them,and with the fervent hope of spreading Tango Silk to the world.
People who are interested in it should call a salesperson.
Thank you.
Item List
Shell piercing(Tango sea color)
Shell piercing(Tango sea color)
brooch(Sakura-Purple & Pink)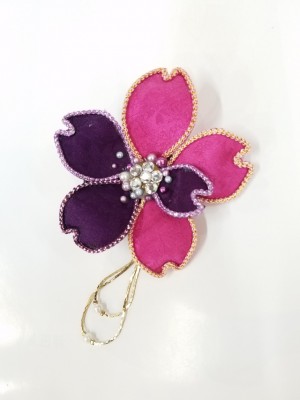 brooch(Sakura-Purple & White)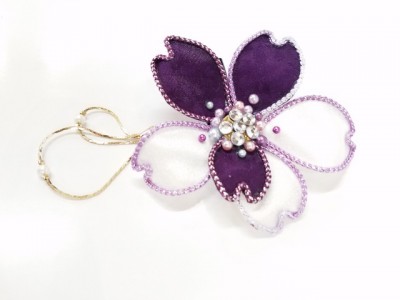 hair ornaments(Flower fan-Blue & Black)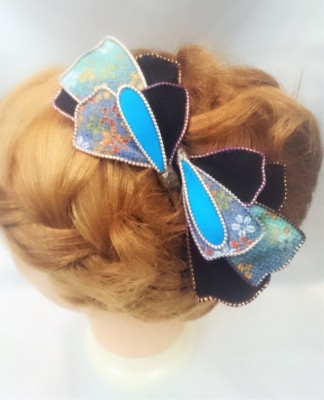 hair ornaments(Flower fan-Yellow)
Shop Guide
SHOP
a.point
ADDRESS
2824-9 Amino, Aminono-cho, Kyotango-shi, Kyoto Prefecture
629-3101
TEL
0772-72-3113
FAX
0772-72-3113
OPEN
AM9:30~PM6:00
CLOSE
SUNDAY
URL
https://www.a-point.biz
http://www.a-point-a88.com/
http://www.a-point.net
Flow
Make the only Tango-Chirimen accessories in the world
Type is
You can order hair accessories, brooches, badges, figurines and various
items.
1.Contact
2.Consultation
①What is it used for?
②What kind of accessories?
③What is the motif?
④What color?
⑤How much is the budget?
⑥When is the delivery date?
etc… Please consult anything
次へ
3.Production / assembly
Since 2 patterns are created, please check
Then assemble while making minor corrections
次へ
4.Completion / Delivery
We will send you an image when finished, so please check
We will ship after payment if there is no problem
Order Form
We accept inquiries from mail and your order in our shop
Please check the following privacy policy for inquiries
privacy policy
Manage personal information received in accordance with the Personal Information Protection Act.
Please check the following "Personal Information Protection Policy" before making an inquiry.
Privacy policy
Use purpose of personal information: We may use for reply to inquiry The personal information acquired here will not be used for any other purpose without your consent.
We will not disclose or provide data to a third party without the consent of the person, except under the law.
I will disclose if there is a request from the person.
We will correct or delete the published personal information if it is different from the facts.
In addition, regarding the handling of personal information held, we will comply with applicable laws, national guidelines and other norms.